TINTIN LANGUAGES

AFRIKAANS
ALGUERES
ALSATIAN
ARABIC
ASTURIAN
BASQUE
BERNESE
BENGALI
BRETON
BULGARE
CAMBODIAN
CATALAN
CHINESE
CORSICAN
CZECH
DANISH
DUTCH
ENGLISH
ESPERANTO
FARSI
FAEROESE
FINNISH
FRENCH
FRIESIAN
GALICIAN
GALLO
GAUMIAN
GERMAN
GREEK
HEBREW
HUNGARIAN
ICELANDIC
INDONESIAN
ITALIAN
JAPANESE
KOREAN
LATIN
LUXEMBOURGER
MALAYALAM
NORWEGIAN
OCCITAN
PICARDY
POLISH
PORTUGUESE
ROMANSCH
RUSSIAN
SERBO-CROAT
SINHALESE
SLOVAK
SPANISH
SWEDISH
TAHITIAN
TAIWANESE
THAI
TIBETAN
TURKISH
VIETNAMESE
WELSH

TOTAL 60 VERIFIED LANGUAGES

RUMOURS

MIRANDES

MONEGASCO

PROVENÇAL

RUANDES

MONEGASCO
SERBO-CROAT
Family: Indo-European
Subgroup: Slavic
Branch: Southern

| | | | | | |
| --- | --- | --- | --- | --- | --- |
| Tintin | Milou | Capitaine Haddock | Tryphon Tournesol | Dupont | Dupond |

| | | | | | |
| --- | --- | --- | --- | --- | --- |
| Tintin | Milu | Hadok | Turnesol | Dipon | Dipon |
Serbian and Croatian are generally considered one language, combined under the single term Serbo-Croatian. The latter is the most important language of Yugoslavia, where it is spoken by about 8 million people, or about 80 percent of the population. The Serbs, however, call their language Serbian, and being of Eastern Orthodox religious persuasion, write it in a modified form of the Cyrillic alphabet. The Roman Catholic Croats, on the other hand, call their language Croatian and employ the Roman alphabet. Street signs and other inscriptions in Yugoslavia are generally written in both alphabets.

For each Cyrillic letter in the Serbian alphabet there is a corresponding Roman letter in the Croatian alphabet.

Ivo Andné was the winner of the Nobel Prize for Literature in 1961.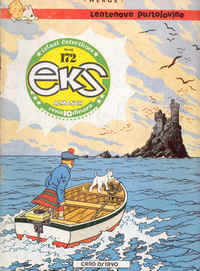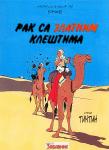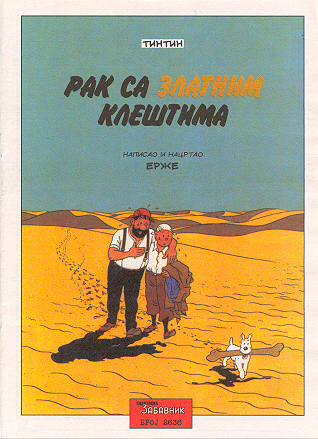 | | | | | |
| --- | --- | --- | --- | --- |
| | I'VE GOT THIS ONE | | | ! WANTED! |