TINTIN LANGUAGES

AFRIKAANS
ALGUERES
ALSATIAN
ARABIC
ASTURIAN
BASQUE
BERNESE
BENGALI
BRETON
BULGARE
CAMBODIAN
CATALAN
CHINESE
CORSICAN
CZECH
DANISH
DUTCH
ENGLISH
ESPERANTO
FARSI
FAEROESE
FINNISH
FRENCH
FRIESIAN
GALICIAN
GALLO
GAUMIAN
GERMAN
GREEK
HEBREW
HUNGARIAN
ICELANDIC
INDONESIAN
ITALIAN
JAPANESE
KOREAN
LATIN
LUXEMBOURGER
MALAYALAM
NORWEGIAN
OCCITAN
PICARDY
POLISH
PORTUGUESE
ROMANSCH
RUSSIAN
SERBO-CROAT
SINHALESE
SLOVAK
SPANISH
SWEDISH
TAHITIAN
TAIWANESE
THAI
TIBETAN
TURKISH
VIETNAMESE
WELSH

TOTAL 60 VERIFIED LANGUAGES

RUMOURS

MIRANDES

MONEGASCO

PROVENÇAL

RUANDES

MONEGASCO
SINHALESE(CEYLON)
Family: Indo-European
Subgroup: Indo-Iranian
Branch: Indic

| | | | | | |
| --- | --- | --- | --- | --- | --- |
| Tintin | Milou | Capitaine Haddock | Tryphon Tournesol | Dupont | Dupond |
| | | | | | |

THANKS A.K.
Sinhalese is the official language of Ceylon, now known as Sri Lanka. It is spoken by about 14 million people, living mainly in the southern and western two-thirds ot the island. An Indo-iluropean language descended from Sanskrit, Sinhalese was brought to Ceylon by settlers from northern India in the 5th century B.C. The alphabet, however, with its generally rounded letters, more closely resembles those of the Dravidian languages of southern India. The English words tourmaline and beriberi are of Sinhalese origin.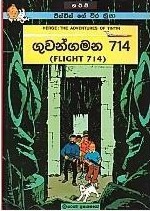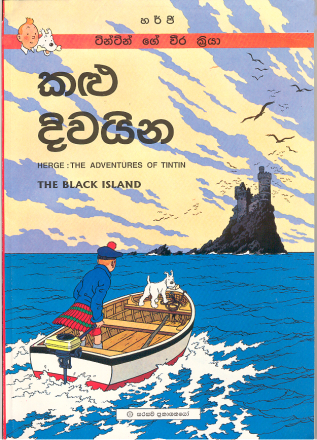 | | | | | |
| --- | --- | --- | --- | --- |
| | I'VE GOT THIS ONE | | | ! WANTED! |