¡COMING NEXT MAY/ JUNE 2.003 TO TAHITI AND SIX MONTHS AFTER IN EUROPE ¡¡
LE CRABE AUX PINCES D'OR TAHITIAN TRADUCTION PUBLISHED BY CASTERMAN: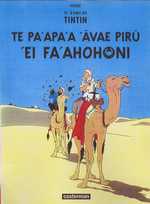 LAST NEWS. (THANKS TO WOLFANG FROM GERMANY)
EMAIL FROM ETTIENE POLLET, CASTERMAN'S SERVICE OF FOREIGN LANGUAGES:
Hello

Let's go with english !
I spoke some german when I was soldier in your nice country, but it was 30
years ago.

The Tintin book in tahitian is not at all available.
The project was to publish it at the end of the year IN TAHITI and after six
month or so to sell it in Europe in the bookshops. It will be in our catalog
(and at FNAC, by the way).

But a viruse destroyed the PC of the (french) husband of our polynesian
translator Mrs Mac Kittrick (!).

The album is now ready to be printed but will not be on the market IN TAHITI
before may or june 2003. And in Europe, after some six month more.

Regards
Etienne


Best regards tintinologue from Germany and a succesfull year 2003 for your collection.